Posts Tagged 'apple'
Can you think of the any practical and realistic uses for the iPad in a ministry context? I have a few right off the top of my head…
Musicians Sheet Music (and words pushed if needed…)
You Version Notes & Biblical Text (preach right from the pad)
Get rid of prayer books and hymnals… place iPads and WiFi in the pew – into the home…
Translate the Bible in real time – have a concordance (or 10 of them even) right @ your disposal…
Write an app and control the sound board, cameras, lighting…
Give them to the Welcome teams – have interactive maps,
Child Check in stations – real time wifi collection to a db application – During emergencies they could be used for attendance and security checks
Google Wave Client for conferences?
Push out premium sermon content – the added extras, additional biblical texts etc.
No one that knows sign language on staff today? That's okay – listen and type out the words for those who can "read" them in real time.
Cheap information Kiosk's
Can you add to these?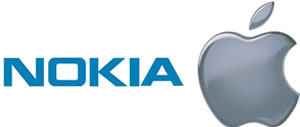 Nokia Corp. is broadening a legal dispute it already has with Apple Inc. over the iPhone, saying almost all of the company's other products also violate the Finnish phone maker's patents.  Nokia said Tuesday that it has filed a complaint against Apple with the U.S. International Trade Commission, alleging Apple's iPhone, iPods and computers all violate Nokia's intellectual property rights.
The seven Nokia patents in this complaint relate to Nokia's pioneering innovations that are now being used by Apple to create key features in its products in the area of user interface, as well as camera, antenna and power management technologies.
Nokia, which is based in Espoo, Finland, has already sued Apple over the massively popular iPhone, claiming it infringes on 10 of its patents related to phone calls and Wi-Fi access.
Apple has denied the charges and this month countered with its own lawsuit, saying Nokia has copied aspects of the iPhone in their own devices. Apple claims Nokia is violating its patent rights on technology for connecting phones to computers, teleconferencing and touch-screen menus, among other things – 13 patents in fact.
I wonder how this will turn out… and it is so reminiscent of the BlackBerry / Rim fight…
Well – I have now had the iPhone for a little over 24 hours.
I am quite impressed – but I would really love to have the Google Voice application.
I think it is sad that Apple is blocking the app.
your thoughts?